přejít na hlavní menu
přejít na kontextové menu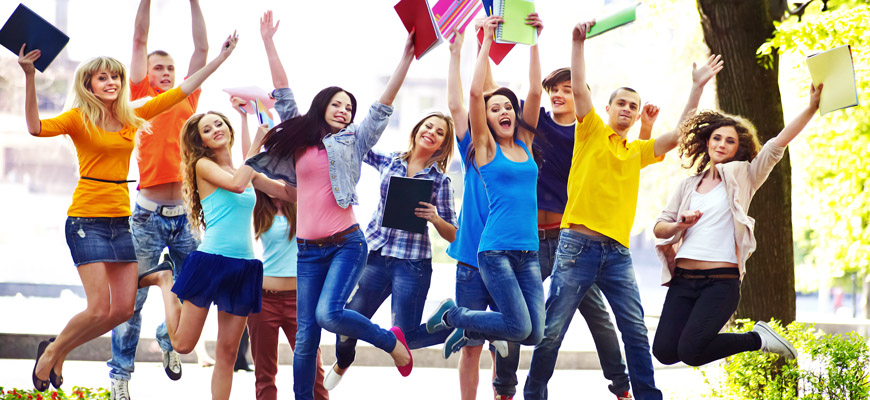 Jazykové pobyty angličtiny v zahraničí
Jazykové pobyty s angličtinou v zahraničí


Austrálie


Nový Zéland



Anglie, Skotsko


Irsko


Malta



USA


Kanada


Jihoafrická republika
Angličtina je jazykem obchodu i moderních technologií, jazykem, bez kterého se dnes v profesním životě neobejdete. Tak neseďte doma za pecí a vydejte se do jedné z osmi zemí, kam vás STUDYLINE může vyslat na kurzy angličtiny!
Kam vyrazit na kurz?
Angličtina je úředním, případně běžně používaným druhým jazykem ve více než padesátce zemí světa. STUDYLINE pro vás vybral osmičku z nich – zajímavé země s výbornými školami, kde si rozšíříte nejen jazykové obzory:
Austrálie – sen mnoha studentů, který není tak nedostupný, jak se může zdát. Vyšší náklady na cestu vyváží možnost práce při studiu. Vhodná destinace pro delší jazykové pobyty.
Nový Zéland – studium v zemi Maorů? Proč ne! Nádherná příroda, skvělé kurzy a možnost vyšší náklady na letenku kompenzovat prací v rámci takzvaného Working Holiday víza.
Anglie, Skotsko – mezi studenty z celého světa absolutně nejoblíbenější destinace pro studium angličtiny v zahraničí. Pro mluví jejich blízkost a čistá "British English".
Irsko – další ostrovní země, která nabízí, díky členství v Evropské unii, přívětivé podmínky pro ty, kteří chtějí při studiu i pracovat.
Malta – oblíbená evropská destinace, kam je možné vyrazit i jen na pár týdnů. Poměrně levně se sem dopravíte a místní kurzy patří k těm cenově příjemnějším.
USA – pro studenty celosvětově třetí nejoblíbenější destinace pro studium angličtiny. Místní kurzy angličtiny nejsou nejlevnější, ale studium tady je neocenitelná zkušenost.
Kanada – země, kde je angličtina jedním z úředních jazyků. I tady můžete při studiu pracovat v rámci Working Holiday víza – a to klidně celý rok.
JAR – netradiční a pořádně exotická destinace, kam sice není nejlevnější cesta, ale tu vám vykompenzují nižší náklady na jazykový pobyt.
Na jak dlouho do zahraničí za studiem vyrazit?
To samozřejmě záleží na vás. Nicméně platí, že za deset týdnů zahraničního intenzívního studia angličtiny se student v průměru zlepší o jednu jazykovou úroveň. Pro srovnání – v běžné jazykovce na to potřebujete zhruba rok.
Po Evropě můžete za studiem angličtiny vyrazit už i na jeden nebo dva týdny – náklady na cestu totiž nejsou tak vysoké. V případě, že se rozhodnete pro vzdálenější destinaci, popřemýšlejte o delším pobytu. Aby se vyplatily náklady na cestu. Nejkratší dobu se obvykle tráví kurz angličtiny na Maltě, nejvíce času stráví studenti v USA.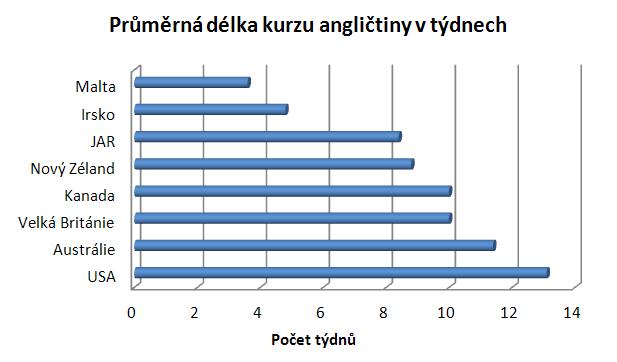 Na kolik jazykový kurz v zahraničí vyjde?
Nikoli jediným, ale velmi důležitým parametrem při rozhodování o tom, kam vyrazit na zahraniční kurz angličtiny, jsou finance. Pokud se rozhodnete pro Velkou Británii, Austrálii nebo Spojené státy, čekají vás jen za samotné studium výdaje v řádech desítek tisíc korun měsíčně. Na opačném pólu je potom trojice Kanada, JAR a Malta.
Nicméně berte v úvahu i to, že některé země nabízejí velmi výhodné podmínky pro práci při studiu – vysoké náklady se tak dají výrazně snížit.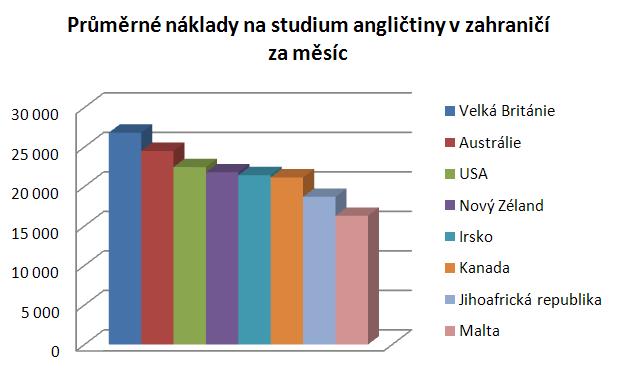 Potřebujete další informace o studiu angličtiny?
Pak si vyberte konkrétní zemi a důkladně prozkoumejte školy, do kterých můžete vyrazit. Výrazně pomoci by vám měla i naše databáze škol. A v neposlední řadě je tady tým STUDYLINE – lidé, na které se můžete obrátit s jakýmkoli dotazem, a oni vám rádi poradí.